Chrysalis Counseling offers personal counseling to help people face and overcome life's challenges.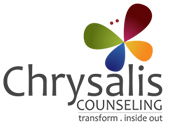 Chrysalis Counseling is a team of professionally trained and experienced Christian counselors.
Our Services are for all age groups and address a wide range of life's challenges:
• Adolescents
• Personal Adjustments
• Relational Challenges
• Academic Underachievement
• Work-related Issues
• Family / Couples: Premarital, Marital
• Parents / Children / Sibling / Peer
• Behavioral Disorders
• Personality Disorders
• Psychological / Emotional
• Problems
• Stress / Trauma
• Alcohol / Drug Abuse
• Spiritual Issues
• Life Coaching
Fees for Chrysalis Counseling services are affordable and accessible.
To schedule an appointment with one of our trained counselors:
Website: chrysalislife.org/
Phone: +91-80-25452617 or toll-free (within India) 1-800-300-00998
Email: This email address is being protected from spambots. You need JavaScript enabled to view it.
Chrysalis Counseling is a ministry of All Peoples Church & World Outreach.
Click here to know more

---
All Peoples Church in Bangalore is a Spirit-filled, Word-based, Bible-believing Christian fellowship of believers in Jesus Christ desiring more of His presence and supernatural power bringing transformation, healing, miracles, and deliverance. We preach the full Gospel, equip believers to live out our new life in Christ, welcome the Charismatic and Pentecostal expressions in the assembly of God and serve in strengthening unity across all Christian churches. All free resources, sermons, daily devotionals, and free Christian books are provided for the strengthening of all believers in the Body of Christ. For further equipping, please visit APC Bible College.
Subscribe
Subscribe to weekly sermon email from All Peoples Church,
announcements on free books being released and APC-Bible College updates.
You can unsubscribe any time.