"To console those who mourn in Zion, To give them beauty for ashes, The oil of joy for mourning, The garment of praise for the spirit of heaviness; That they may be called the trees of righteousness, The planting of the Lord, that He may be glorified." (Isaiah 61:3)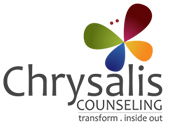 Chrysalis Counseling is a wing of All Peoples Church and is run by a team of professionally trained and experienced counselors.
Our vision is to transform lives by the healing and renewing of the mind.
We believe that every human being is designed to live a meaningful life with joy and purpose. At Chrysalis Counseling, we want to encourage you and enable you to achieve your life goals. If you have something hindering you from being the best you can be, or if you simply need someone to talk to, call us or email us for an appointment.
We also offer workshops and counseling services in schools as well as colleges. Regular training through workshops tailored to suit the challenges of young adults, Teachers and Parents are also part of our services
The scope of our services is as follows:
At the counseling center (Currently done online)
• Children/Youth counseling
• Adult counseling (18 yrs. +)
• Marriage counseling
On location
• On site workshop/training at schools and colleges.
• On site school/ college one on one counseling services.
• On site corporate one on one counseling.
Click here to know more