All Peoples Church Bible College and Ministry Training Center (APC-BC), started in August 2005, is a place where you as a follower of Jesus Christ will be challenged to deepen and broaden your relationship with God. We provide Spirit-filled, anointed, hands-on training and equipping for ministering in the supernatural power of the Holy Spirit along with doctrinally sound and intellectually stimulating study of God's Word. We believe in developing the whole person for ministry emphasizing godly character, deep roots in the Word of God, and powerful demonstrations of signs, wonders and miracles - all flowing out of an intimate relationship with the Lord. As a student you will study, pray, play, debate, laugh, cry and grow with us, your faith family, as we spur one another on to greater realms in God.
At APC-BC in addition to sound teaching we emphasize the love of God in demonstration, the anointing and presence of the Holy Spirit and the supernatural work of God. Several young men and women have been trained and sent out to fulfill God's call over their lives.
Classes are held each weekday, Monday to Friday from 9:00am-1pm. Day scholars, working professionals, home-makers can attend these classes and continue with their work day after 1pm. Separate hostel facilities are available for men and women who desire to be residential students. Students participate in field work, special seminars, prayer and worship times in the afternoon sessions, each week day from 2pm-5pm. The afternoon sessions are optional for day scholars (non-residential students). All students are encouraged to serve at one or more local churches over the weekends.
All Peoples Church Bible College and Ministry Training Center is a church-based equipping center for Spirit-empowered Christian ministry.

For more information, please email: This email address is being protected from spambots. You need JavaScript enabled to view it. or you can also call/WhatsApp Manohar Raj: +91-9985454899
Programs

.
Certificate in Theology & Christian Ministry (C.Th) - 1 year
.
Diploma in Theology & Christian Ministry (D.Th) - 2 year
. Bachelor of Theology & Christian Ministry (B.Th) - 3 year
All programs offered at APC-BC are accredited by Nations Association for Theological Accreditation (NATA).
Admissions open for the July 2019 intake. Application deadline : May 30, 2019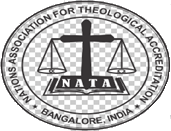 Eligibility
• For C.Th, students must have completed Class 10th.
• For D.Th & B.Th students must have completed Class 12th or Graduation in any stream.
• Students must be proficient in English language.
• Students must be above 18 years of age.
Semester System
We follow a semester schedule with TWO semesters per year.
Semester I: July to November
Semester II: January to April
Short-Term Bible Course for 3 Months
We will be hosting 1 Short Term Bible Course for 3 Months in one location covering 28 subjects over the course of 2019.
Varanasi, UP (September 16 – December 06, 2019 in English & Hindi)
We offer a good balance of both Biblical and practical subjects. Lectures are given by college faculty and visiting speakers. Personal study, reading, workshops, regular tests and exams complement the material presented in the lectures. We also believe in supernatural impartation through association with anointed ministers
Practical Ministry
All students are required to be involved in field work and practical ministry during all semesters.
Library Resources
All students will have access to APC's Resource Center which contains Reference books and Study Guides, Christian literatures, Audio recordings, Videos, VCDs / DVDs and music CDs.
All Peoples Church – Bible College & Ministry Training Center is a ministry of All Peoples Church & World Outreach, Bangalore, India.