Extraordinary times require extraordinary measures. This is a united effort of believers and churches around India.
Do everything you possibly can for those who need help. Proverbs 3:27 (ERV)
As the Lord leads and enables we invite you to contribute towards the Covid Relief efforts.
Please use the information below to make your contribution.
Please indicate "Covid Relief Fund" when you make your contribution.
Please send an email to: This email address is being protected from spambots. You need JavaScript enabled to view it. with details on where you would like your contribution to be used:
1. Covid Relief Pastors Support
2. Covid Relief Family Assistance
3. Covid Relief Education Fund
4. Covid Relief Feed A Community
5. Covid Relief Household Medical Kit Distribution
6. Covid Relief Medical Equipment for Community Hospitals
If you do not specify, your contribution will be used where needed most.
Online Bank Transfer
Account Name: All Peoples Church
Bank: Citibank N.A., No.5, M.G. Road, Bangalore 560001, Karnataka, India
Account No.: 0057213809
Account Type: Current
IFSC Code: CITI0000004
Unified Payments Interface (UPI) / Credit Card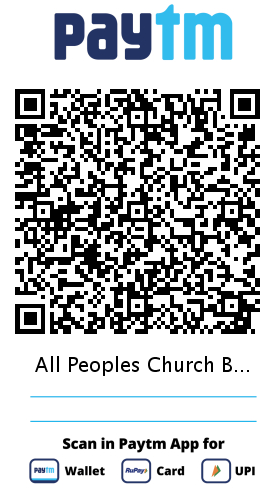 Kindly consider using Online Bank Transfer from your bank to make your contribution when transferring a large amount.
NO INDIAN TAX EXEMPTION STATUS
Since APC is registered as a religious trust for religious purposes, we do not have the 80G Tax exemption certificate/status and hence contributors cannot get tax exemption.
OVERSEAS CONTRIBUTIONS
We welcome your contribution from an India based bank account into our bank details provided. We do not have a facility to accept overseas contributions. For any questions email us at This email address is being protected from spambots. You need JavaScript enabled to view it.